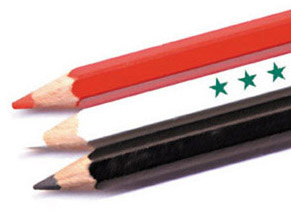 Two million pencils collected by the Spanish Campaign for Lifting the Sanctions on Iraq will be shipped to Iraq next Thursday October 11th from Valencia
(CSCAweb, 8th october, 2001)
The second shipment of educational materials will be shipped from the port city of Valencia to Iraq next Thursday, October 11th. This is the final stage in the solidarity campaign initiated last May by the Spanish Campaign for Lifting the Sanctions on Iraq (SCLSI) in solidarity with Iraqi children.
The materials will be shipped from the port city of Valencia to the Jordanian city of Aqaba. From there, they will be transported by road to Baghdad where they will be handed to the Iraqi Minister of Education. A new Spanish delegation is scheduled to visit Iraq next January in order to check upon the distribution of materials among Iraqi children.
Because of the considerable amount of material collected in the numerous activities carried throughout these past months by organizations and institutions throughout the country as well as the economic support to the campaign, this new initiative against the embargo and in solidarity with the Iraqi people initiated by the SCLSI must be considered as a great success.
Last December, a first shipment of educational material arrived in Iraq on the first direct flight between Madrid and Baghdad since the sanctions against Iraq were approved in 1990. Eight tons of educational material were collected throughout the year 2000.
This second shipment (50 tons) includes, together with the educational material collected in educational centres countrywide, two million pencils that have been acquired thanks to the economic support of individuals, social organizations, and local institutions countrywide . Every pencil has a logo in Arabic that reads "Campaign for Lifting the Sanctions on Iraq­ Spanish State". The campaign initially hoped for sending just one million pencils to Iraq.
The shipment of this material has suffered a notable delay due to the administrative delay of the UNSC Sanctions Committee. The UNSC Sanctions Committee is in charge of authorizing the entry in Iraq of any donation or goods bought under the "oil for food" program, including the humanitarian aid. The Sanctions Committee authorized the shipment of educational material on July 31st, that is, four months after the Spanish goverment presented the request on behalf of the SCLSI. These delays are, on the other hand, typical of the US and British attitude of obstructing the UN "oil for food" program. The delay has forced the SCLSI to postpone on two occasions the projected travel to Iraq of Spanish delegates who participated in the campaign.
Since the beginning of the campaign last may, 11,924,161 pesetas have been collected (64,454 US $). The total expenses are 1,937,935 pesetas (10,475 US $). There are still pending expenses relating to the shipping of the materials from Valencia to Baghdad.

---