Five Palestinian minors from the Occupied Territories, sustaining injuries as a consequence of Israel military repression during the Intifada, will arrive in Madrid next Saturday, January 12th
The minors, who will arrive accompanied by their mothers, will undergo medical treatment at the La Paz Hospital (Madrid) and Asturias' General Hospital (Oviedo), as part of a new initiative of solidarity launched by the Arab Cause Solidarity Committee (ACSC) and the Madrid section of the Arab Committee for Human Rights
CSCAweb, 4th January, 2002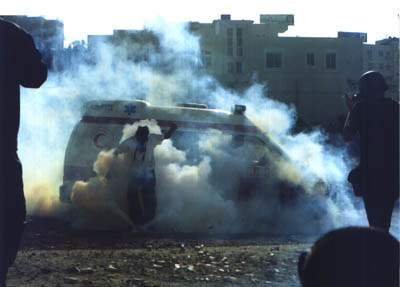 Five Palestinian minors from Gaza and the West Bank, sustaining injuries as a consequence of Israel military repression during the Intifada, will arrive in Madrid next Saturday to undergo medical treatment at the La Paz Hospital (Madrid) and Asturias' General Hospital (Oviedo). The injured minors will arrive at Madrid-Barajas Airport next Saturday, January 12th, aboard a Royal Jordanian flight departing from Amman. The ACSC has been assisted in the launching of this initiative by the Madrid section of Arab Committee for Human Rights, and is supported by the Spanish National Health Instituted (INSALUD) as well as the medical teams at the Orthopedic Surgery and Neurosurgery departments at the La Paz Hospital and Asturias' General Hospital.
The minors are: M. E. Al-Sahrath (17), A. Kamal Al Akluk (16), A. N. I. Matar (13), G. Fareed Brbkh ( 9 ) y H. Assad Hussien Qassas (14). The first two will travel to Asturias to undergo medical treatment in Oviedo. All the abovementioned minors suffer from orthopedic problems and in some cases have sustained serious oftalmological injuries, after being shot in the upper-parts of their bodies.
The grave situation in which Palestinian medical services find themselves after more than a year of siege and isolation forced upon the Palestinian Occupied Territories by the Israel occupation army makes it impossible for Palestinian injured individuals to receive adequate medical treatment inside the Territories. Up-to-date, more than 15,000 Palestinians have been injured due to the Israel repression of the Palestinian uprising, and more than 800 Palestinians have been killed in the clashes.
With this initiative, the ACSC and the Arab Committee for Human Rights in Madrid would like to express their support towards the Palestinian authorities' pleas demanding the assitance and treatment of Palestinian individuals injured during the Intifada outside the Occupied Territories and Autonomous towns. Both organizations would also like to express their support and solidarity with the Palesitnian people and the Intifada, as well as to denounce the brutal and indiscriminate use of force on the part of the Israeli occupation army against all sectors of Palestinian civil society. The violencie has intensified in the past weeks, particularly after the military re-occupation of autonomous areas under the jurisdiction of the Palestinian Authority.
Madrid, January 4th 2002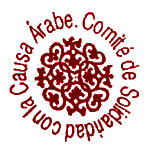 Arab Cause Solidarity Committee
---