program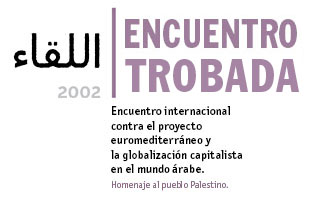 International Meeting against the Euro-Mediterranean Project
and Capitalist Globalization in the Arab World
Tribute to the Palestinian People
Valencia, April 19th ­ 21st, 2002
Organized by:
Revolta and Arab Cause Solidarity Committee (CSCA)
(Ca Revolta, 10 Santa Teresa St., Valencia)
16.00 RECEPTION FOR THE PARTICIPANTS
19:30 OPENING SESSION
Introduction by Pedro Rojo (Arab Cause Solidarity Committee) and Cristina Piris (Ca Revolta). Remarks by Ahmed Ben Bellah (first President of independent Algeria).
Opening lecture: The Arab World in the Aftermath of September 11th. Pedro Martínez Montávez, Chair of Arab Studies, Autónoma University of Madrid.
SATURDAY, April 20th, 2002
10:00 FIRST SESSION
Euro-Mediterranean Overview. The Euro-Mediterranean Partnership Project (1995-2002): Economic, Political and Human Flows
FIRST LECTURE: From Barcelona to Valencia: A critical Assessment of the Euro-Mediterranean Partnership Project. Iván Martín, UE Political Economy Professor, Middlebury College in Spain.
SECOND LECTURE: Migratory Flows in the Eastern Mediterranean: Immigration and "Cultural Distance". Francisco Torres, Sociologist, University of Valencia.
11:30 BREAK
12:00 SECOND AND THIRD SESSIONS
The Middle East Region. Capitalist Globalization and Israel's Insertion in the Regional Order: Economic Liberalization in the Middle East and the Arab-Israeli Political Normalization Process after the Second Gulf War
LECTURE: Arab-Israeli Political Normalization and Israel's Economic Insertion in the Region. Majed Nassar. Director of the Union of Health Work Committees of Palestine.
New Security Schemes: Strategic Factors and Rivalries. The U.S. in the Arab-Mediterranean Region
LECTURE: Militarizing the Mediterranean Space. Fernando Hernández. Introduced by: Miquel Calvet, Platform against the Bétera Base.
13:15 DEBATE
13:45 LUNCH
16:00 MEETING OF ORGANIZATIONS
Organization of workshops.
18:00 DEMONSTRATION AGAINST GLOBALIZATION
Itinerary: From Pl. San Agustín to Plaza de Toros
No NATO, No Globalization, For the Freedom of the Peoples, Against the Capitalist Europe, No to the Euro-Mediterranean Summit.

MEETING OF ARAB ANTI-GLOBALIZATION AND ANTI-NORMALIZATION ORGANIZATIONS
Advancing the Creation of an Arab Anti-Globalization Network.
10:30 WORKSHOPS (proposal)
a) The Euro-Mediterranean Partnership and Civil and Political Liberties. Introduced by Omeyya Seddik (Tunisian Civil and Political Struggles Committee, Tunisia) and Lluisa Ramón (Gestora Ciudadana).
b) Social Economic Experiences and Alternatives to the Economic Model. Introduced by Toni Valero (Col.lectiu de Joves de Parc Alcosa) and Al-Amari Abdeslam (Young Unemployed Graduates of Morocco).
c) Experiences of Struggle against Globalization. Introduced by Hisham Bustani (Jordanian Union of Professional Associations' Anti-Normalization Committee) and Guiomar Vargas (Barcelona Campaign against Capitalist Europe and War).
d) Diversity of Feminist Experiences. Introduced by Arab Lofty (NGO's Forum for Women's Development, Egypt) and Genoveva Ros (Comissió de Dones '8 de Març').
e) Destructuralization of Social and Economic Spaces. Introduced by a representative of Coordinadora de l'Horta de Valencia and Ahlem Belhas (UGTT/ Association Tunisienne des Femmes Democrats).
13:30 CLOSING SESSION
Tribute to the Palestinian People
Claustro of the University of Valencia, Carrer La Nau
Reading of a Message of Greeting from Haidar Abdel Shafi
Khawla al-Azraq, Manal al-Bishiti, Amad Muhaisen, Representatives of the Popular Committees of the Refugees Camps of Bethlehem, Jan Yunis, and Deheishe
Khader Shkirat, President of LAW, The Palestinian Society for the Protection of Human Rights & the Environment, Jerusalem and Majed Nassar. Director of the Union of Health Work Committees of Palestine
Music and Arab Poetry Reading by Josep Piera
* * *
SPACE OF SOLIDARITY
Presentation and Debate about Campaigns of Support to the Palestinian and Iraqi Peoples: Videos and Exhibits. Representative of the International Civil Campaign for the Protection of the Palestinian People.
ART AGAINST GLOBALIZATION
Miquel Guillem
Video Art
PIU
Photo Exhibit: Metge Sense Fronteres
Photo Exhibit: "Iraq, war and sanctions" by Alejandro Zapico Robledo
(There will be a simultaneous translation service available)
---
INFORMATION & REGISTRATION:
Revolta: +34 (96) 392 20 88, ceresjra@eurosur.org
CSCA: +34 (91) 531 75 99, csca@nodo50.org
---