No debemos renegar de las leyes sobre crímenes de guerra
Carta de parlamentarios, profesionales y juristas ante la especulación de que el gobierno británico modifique las condiciones para perseguir crímenes de guerra en su país
El poder de detener individuos sobre los que exista una razonable sospecha de que han cometido crímenes de guerra en cualquier lugar del mundo y que pongan pie en Gran Bretaña es un recurso eficiente y necesario para luchar contra los crímenes de guerra y no debe ser obstaculizado
The Guardian, Sábado 16 Enero de 2010
Traducción: Andrés Solar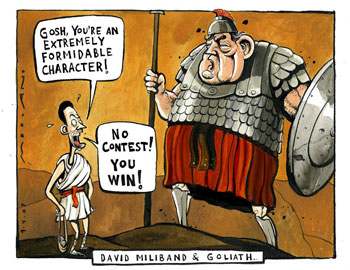 Estamos negativamente impresionados por las sugerencias del representante de la oficina de asuntos exteriores y la Commonwealth Ivan Lewis, y del ministro de asuntos exteriores David Miliband de que Gran Bretaña debe considerar cambios de sus leyes para evitar cualquier intento futuro de perseguir criminales de guerra de Israel u otras partes del mundo. El Reino Unido no debe olvidar sus obligaciones internacionales partircularmetne las que están bajo la cuarta convención de Ginebra de buscar y perseguir a aquellas personas sospechosas de haber cometido crímenes de guerra donde quiera que estén y quienes quiera que sean, sea cual sea su status, rango o influencia, y sobre los cuales existan evidencias. Cualquier juez/a que encuentre suficientes evidencias de que se haya cometido un crimen de guerra debe tener el poder de ordenar el arresto de la persona sospechosa, que estará sujeta a los posibilidades habituales de fianza y apelación.
El poder de detener individuos sobre los que exista una razonable sospecha de que han cometido crímenes de guerra en cualquier lugar del mundo y que pongan pie en Gran Bretaña es un recurso eficiente y necesario para luchar contra los crímenes de guerra y no debe ser obstaculizado (Informe, 6 de enero). Tampoco el gobierno deber sucumbir a la presión de cualquier poder extranjero para alterar este aspecto del proceso judicial. Urgimos al gobierno a plantear claramente que no se alterará la ley en material de jurisdicción universal y que continuará permitiendo a las víctimas de los crímenes de guerra a buscar justicia en los tribunales británicos.
Parlamentarios-as y otras/os firmantes:
John Austin MP
Katy Clark MP
Frank Cook MP
Jeremy Corbyn MP
Ann Cryer MP
Paul Flynn MP
Neil Gerrard MP
John Hemming MP
Paul Holmes MP
Kelvin HopkinsMP
Brian Iddon MP
Lynne Jones MP
Tom Levitt MP
Martin Linton MP
Bob Marshall-Andrews MP
Gordon Prentice MP
Linda Riordan MP
Terry Rooney MP
Baroness Jenny Tonge
Baroness Lindsay Northover
Bob Russell MP
Clare Short MP
Phyllis Starkey MP
Sir David Steel
Sandra White MSP
Derek Wyatt MP
Tayab Ali, Partner, Irvine Thanvi Natas Solicitors
Sir Geoffrey Bindman
Richard Burgon, solicitor
Daniel Carey, Public Interest Lawyers
Ian Cross, solicitor
Jim Duffy, Public Interest Lawyers
Shauna Gillan, barrister, 1 Pump Court
Andrew Gray, solicitor
Tessa Gregory, Public Interest Lawyers
Beth Handly, Partner, Hickman and Rose solicitors
Michael Hagan, solicitor
Michelle Harris, barrister, 1 Pump Court
Susan Harris, solicitor
Jane Hickman, Partner, Hickman and Rose solicitors
Sam Jacobs, Public Interest Lawyers
Salma Karmi-Ayyoub, barrister
Paul Kaufman, solicitor
Aonghus Kelly, Public Interest Lawyers
Daniel Machover, Chair of Lawyers for Palestinian Human Rights
Michael Mansfield QC
Anna Mazzola, Partner, Hickman and Rose solicitors
Sarah McSherry, Partner, Christian Khan solicitors
Clare Mellor, solicitor
Karen Mitchell, solicitor
Simon Natas, Partner, Irvine Thanvi Natas solicitors
Sophie Naftalin, Lawyers for Palestinian Human Rights
Mary Nazzal-Batayneh, Human Rights Legal Aid Fund
Henrietta Phillips, solicitor
William Seymour, solicitor
Navya Shekhar, solicitor
Phil Shiner, Public Interest Lawyers
David Thompson, solicitor
Paul Troop, barrister
Mohammed Abdul-Bari, Secretary-General, Muslim Council of Britain
Anas Altikriti, British Muslim Initiative
Lindsey German, Stop the War Campaign
John Hilary, Director, War on Want
Kate Hudson, Chair, CND
Betty Hunter, General Secretary, PalestineSolidarity Campaign
Dan Judelson, Jews for Justice for Palestinians
Hugh Lanning, PCS Deputy General Secretary
John McHugo, Chair, Liberal Democrat Friends of Palestine
Gerry Morrissey, General Secretary, BECTU
Tony Woodley, Joint General Secretary, UNITE.
Kate Allen, Director, Amnesty International UK
Jackie Alsaid LLM
Rachel Bowles
Prof Haim Bresheeth
Dale Egee
Sarah El-Guindi
Deborah Fink
David Halpin
Sharif Hamadeh
Samira Hassassian
Professor Ted Honderich
Victor Kattan
Asad Khan
Miriam Margolyes
Professor Nur Masalha
Professor Steven Rose
Professor Jonathan Rosenhead
Andrew Sanger
Dr Aisha Sarwar
Tareq Shrourou, Lawyers for Palestinian Human Rights
Tony Woodley, UNITE Joint General Secretary
• This article was amended on Wednesday 20 January 2010 to correct the name of a signatory.
http://www.guardian.co.uk/world/2010/jan/16/war-crimes-universal-jurisdiction-israel