Amnistía Internacional se retira del Concierto de Leonard Cohen en Tel Aviv
Alberto Arce
(…) cuando Leonard Cohen comprendió que existía una campaña contra su actuación en Tel Aviv, inmediatamente ofreció cantar en Rammallah. En la dinámica de equidistancia habitual y obligada, pensó que sería suficiente. (…) desde Palestina se rechazó su ofrecimiento.
www.palestina.cat, Comité Palestino de la Campaña de Boicot al Estado de Israel. Red Solidaria contra la Ocupación de Palestina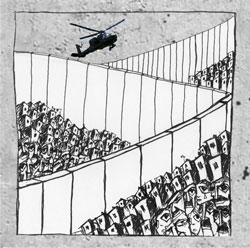 La Campaña Palestina de Boicot al Estado de Israel (BNC) ha enviado hoy lo que puede considerarse no sólo como una gran noticia, sino toda una pauta a seguir de cara al futuro. La noticia de que Amnistía Internacional, tras una importante campaña de presión internacional, se niega a aceptar la recaudación de un concierto de Leonard Cohen en Tel Aviv es importante en sí misma y por los principios que transmite.
Primero, cuando Leonard Cohen comprendió que existía una campaña contra su actuación en Tel Aviv, inmediatamente ofreció cantar en Rammallah. En la dinámica de equidistancia habitual y obligada, pensó que sería suficiente. Cual no sería su sorpresa cuando desde Palestina se rechazó su ofrecimiento. "No. si quieres tocar para nosotros, no toques en Tel Aviv".
Posteriormente, ofreció, a través de Amnistía Internacional, donar la recaudación de su concierto, a un Fondo por la reconciliación y la paz. Cual no sería su sorpresa cuando los supuestos receptores palestinos de esos fondos, anunciaron su negativa a aceptarlos. "no si permite normalizar la imagen de Israel. No si tenemos que trabajar con el Centro Peres por la Paz. No les vamos a lavar la cara."
Y ahora Amnistía anuncia que se retira. Que no acepta el dinero.
Muchas organizaciones de pretendida cooperación y solidaridad trabajan en la misma dirección. Hacemos algo con un palestino y un israelí, y ya estamos trabajando por la paz. Hacemos algo que tenga como objetivo la reconciliación y la paz, y ya estamos aportando algo importante a la región.
En este caso la sociedad civil palestina, representada por la Plataforma palestina de ong´s y la Campaña de Boicot al Estado de Israel ha sido clara. Si se trata de lavarle la cara a Israel no queremos vuestra música ni vuestro dinero. Se identifica un proyecto "normalizador de la ocupación" y se consigue su cancelación. Buenas noticias. Buenas tendencias. El proyecto de invertir lo recaudado por Cohen en Tel Aviv a través de actividades conjuntas es sólo uno de tantos en la misma dirección. La campaña por el Boicot trabaja con casos específicos. Uno a uno. Este era sólo primero.
A continuación, la nota enviada por el Comité Palestino de la Campaña de Boicot al Estado de Israel.
Amnistía Internacional se retira del Concierto de Leonard Cohen en Tel Aviv.
Amnistía internacional anunció que se abstendrá de cualquier implicación en el Concierto de Leonard Cohen en Tel Aviv y que no participará en ningún fondo financiado por los beneficios de dicho concierto.
Diversos medios de comunicación habían informado de que Amnistía Internacional iba a gestionar y participar en un "Fondo para la reconciliación, la tolerancia y la paz" creado a partir de la recaudación del Concierto de Leonard Cohen en Israel. Dicho Fondo sería usado para apoyar a grupos israelíes y palestinos. El anuncio de Amnistía Internacional viene precedido de una campaña de protestas contra su implicación en el concierto y de una convocatoria internacional en la que se le solicita a Cohen que se adhiera al Boicot al Estado de Israel.
Omar Barghouti de la Campaña Palestina de Boicot Académico y Cultural a Israel ha declarado, una vez que se ha hecho pública la noticia "felicitamos a Amnistía Internacional por su retirada de este proyecto, malintencionado, y con el objetivo de lavarle la cara a Israel en sus violaciones del Derecho Internacional y los Derechos Humanos. Al abandonar el proyecto, Amnistía le ha inflingido un golpe muy serio a Leonard Cohen y a su equipo de relaciones públicas, negándose a ampararles con su prestigio y respeto"
Después de que a finales de Julio se supiese que Amnistía Internacional iba a gestionar un fondo creado por los beneficios del concierto de Leonard Cohen en Tel Aviv, diversas organizaciones tanto en los Territorios Ocupados como a lo largo de todo el mundo, comenzaron a manifestarse en contra. La Plataforma Palestina de Ong´s (PNGO) le pidió a Amnistía el pasado 11 de agosto, que rechazase la gestión de ese dinero. El Comité Popular de Bil´in en Cisjordania, lanzó un comunicado en la misma dirección.
Llegaron alrededor de 1000 cartas a Amnistía Internacional solicitando que se retirasen de la Iniciativa de apoyo al concierto de Leonard Cohen. La única organización palestina cuyo nombre había estado implicado en la recepción de fondos con origen en el concierto, declaró que no era cierto que tuviesen intención de participar. Además, un representante de la Organización "Combatientes por la paz" ya había informado al Comité de Boicot a Israel en Nueva York que también había rechazado recibir fondos o participar de ninguna manera en el concierto de Leonard Cohen en Tel Aviv.
Lo que las organizaciones miembro de la campaña de Boicot le explicaban a Amnistía en sus cartas es que "siendo una de las defensoras más importantes de los derechos humanos y el derecho internacional de todo el planeta, participando de una actividad sobre la que se ha lanzado un Boicot, estarían menoscabando un intento palestino y de la sociedad civil internacional para frenar la violación del derecho internacional y los derechos humanos". También aseguraban que "aceptar dinero del concierto de Leonard Cohen en Tel Aviv es el equivalente de que Amnistía hubiese aceptado dinero proveniente de un concierto en Sun City, en la Sudáfrica del Apartheid".
El Centro Peres por la paz, otro de los receptores de fondos del concierto de Leonard Cohen "has sido denunciado en repetidas ocasiones por promover actividades conjuntas entre palestinos e israelíes que tienen como objeto mejorar la reputación internacional de Israel para aumentar su legitimidad, menoscabando las posibilidades de que se haga justicia para los palestinos".
Tras el anuncio de su concierto en Israel, Cohen recibió inmediatamente cientos de cartas de organizaciones palestinas, israelíes, británicas y norteamericanas. En sus conciertos de Nueva York, Boston, Otawa y Belfast, han tenido lugar importantes manifestaciones pidiéndole que respetase la convocatoria palestina de Boicot a Israel. Cohen intentó entonces ofrecer un concierto en Rammallah con el objetivo de contrarrestar las críticas. Los palestinos rechazaron el concierto. Cohen tiene que cancelar su concierto en Tel Aviv si quiere tocar en Rammallah.
Ya que la comunidad internacional no actúa a la hora de detener la opresión israelí contra los palestinos, e inspirados por el movimiento internacional de Boicot que puso fin al Apartheid sudafricano, la sociedad civil palestina ha lanzado campañas de Boicot, Desinversiones y Sanciones contra Israel. Incluyendo el Boicot académico y cultural. Noventa y tres artistas y trabajadores internacionales de la cultural de primer nivel han firmado ya el llamamiento al boicot cultural. Tras el ataque contra Gaza de las navidades pasadas, la Campaña de Boicot continúa avanzando.
OPEN LETTER TO LEONARD COHEN
from the International Jewish Anti-Zionist Network
Open Letter to Leonard Cohen
http://www.ipetitions.com/petition/IJAN_Leonard_Cohen/?e
4 August 2009
Dear Leonard Cohen,
You have received many letters asking that you boycott Israel; and we're sure that many of those who have written to you have been, like many of us, fans of yours since the 60s; and that we, and our families, know many of your songs word-for-word.
We were struck that you have said you loved the great poet and playwright Federico Garcia Lorca. Within months of Lorca's execution by the fascist nationalists, Franco called on Hitler and Mussolini to carry out the aerial bombing of Guernica (1937). In the years following the defeat of the Spanish movement more than 200,000 people were killed by the fascists, including in Nazi concentration camps.
There was always resistance – the experience of anti-fascists from Spain, including Jewish fighters, who were transported in thousands to Nazi concentration camps, famously organized with other prisoners to sabotage, go-slow, escape, and if possible survive.
In 1964 Salvador Dali, once Lorca's friend, was awarded, "from Franco's hands", the Grand Cross of Isabella the Catholic. Dali says it is "the highest honour that can be given to a living artist". When asked "Isn't that an act of treason toward Lorca?" he replied with some self-regarding stupidness about having always been a monarchist and an anarchist. In 1975, Franco signed the death sentences of four political prisoners (he died later that year): Dali congratulated him – local people wanted to lynch Dali.
Dali's sadism and heartlessness raises the central question for all artists – whether art is a discipline that helps express our humanity or whether it is a means of indulging ourselves. It's a choice we make. When artists say they have a right to express themselves, we have to watch out for those who use it to conceal their personal ambitions and damn the lives of others. Some artists use their skills and talents to express and strengthen resistance. Is that not what you intended when you sang the anti-fascist song "The Partisan"?
Who collaborates and who resists always has to be a key question. In 1933, the worldwide boycott of German goods, led by Jewish people intent on bringing down the newly-elected fascist regime, was sabotaged by the Zionist leadership who secretly traded with Nazi Germany. The Zionists, including future first Prime Minister Ben-Gurion lied about it, and by-and-large tried to keep the truth hidden: they chose to condemn Jewish people to death in order to build a "Jewish" state. To this day you will hear Zionists discuss the Nazi boycott of Jewish businesses and professionals (in the same year, 1933), but have you ever heard them discuss the Jewish boycott of German goods?
Einstein, who was a target of the Nazis, Hannah Arendt and others, wrote in 1948 that Herut (founded by future Prime Minister Menachem Begin) was the "latest manifestation of fascism". They could have been describing any of the Israeli political parties – which ones have not been complicit in planning and executing the ethnic cleansing of Palestinian people?
Boycott is of course the point of this letter. In July 2005, Palestinian political parties, unions, associations, coalitions and organizations representing Palestinian refugees, Palestinians under occupation and Palestinian citizens of Israel called upon: international civil society organizations and people of conscience all over the world to impose broad boycotts and implement divestment initiatives against Israel similar to those applied to South Africa in the apartheid era. We also invite conscientious Israelis to support this Call, for the sake of justice and genuine peace.
The Palestinian Campaign for the Academic & Cultural Boycott of Israel (PACBI) has made it crystal clear in their letter to you: We consider your performance in Israel a form of complicity in its grave violations of international law and trampling on human rights principles. Your planned gig in Israel would come merely months after its bloody military assault against the occupied Gaza Strip which left over 1,440 Palestinians dead, of whom 431 were children, and 5380 injured.
The Israeli government said in last week's report, "The Operation in Gaza: Factual and Legal Aspects", that the rockets fired from Gaza "entitled" them to act, that its response was "proportionate". The asymmetry of power was well expressed in the UK Parliament by Jewish MP Sir Gerald Kaufman when he said that the Irgun, in one action – the bombing of the King David Hotel in 1946 – killed more Jewish people (17), than all the rockets from Gaza ever aimed at Sderot.
In essential ways Zionists have not changed over the years – they continue to drip with Jewish and Palestinian blood. We've had enough of Zionist racism. We join with our Palestinian sisters and brothers, and in our own defence take up their call for the boycott of Israel.
For the sake of justice and peace, for your own sake, for the sake of your daughter Lorca, for the survival of the people of Palestine – don't play Israel.
Signed, Michael Kalmanovitz on behalf of IJAN UK; Naomi Binder Wall
on behalf of IJAN Canada; Perry Bellow-Handelman on behalf of IJAN USA
NB: You will have received a copy of the letter of protest to Amnesty International regarding their role in your plan to play in Palestine. You all have made a deal with, amongst others, the Peres Center for Peace. It was founded by Shimon Peres, also founder of Israel's nuclear weapons programme, who like Henry Kissinger was awarded the Nobel Peace Prize. Careful, you are walking with war criminals.
CC Amnesty International