The Audiencia Nacional (National Court) will consider for the first time a lawsuit against top Israeli military officials for a bombing incident in Palestine
The Audiencia Nacional (National Court dealing with special crimes) will consider for the first time a lawsuit brought against top Israeli military officials in order to determine their liability regarding a bombing incident that killed 15 people and caused injuries to other 150 in Gaza (Palestine)
EP
Traducción: Lucas Antón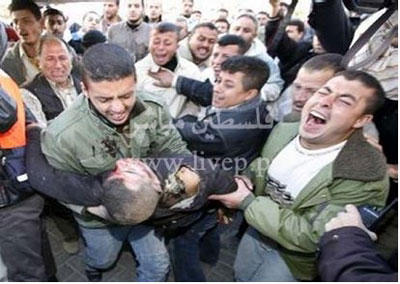 June, 25, 2008
Trad. Lucas Antón
(EP).-The Audiencia Nacional (National Court dealing with special crimes) will consider for the first time a lawsuit brought against top Israeli military officials in order to determine their liability regarding a bombing incident that killed 15 people and caused injuries to other 150 in Gaza (Palestine).
The lawsuit, brought today by six survivors and relatives of the victims, requests the Audiencia Nacional to investigate if this incident may be considered a crime against people and goods under protection in the event of armed conflict. If this is the case, they could be prosecuted in Spain by reason of the universal jurisdiction for crimes against humanity.
The victims brought a lawsuit against seven top officials that ordered and planned the attack: the then Minister of Defence, Benjamín Ben-Eliezer; his military secretary, Michael Herzog; the Israeli Air Force (IAF) Chief of Staff, Moshe Ya'alon; Commander Dan Halutz, who conducted the operation; General Doron Almog; the President of the Security National Council, Gioria Eiland; and the director of the Security General Service (SGS).
According to the text of the lawsuit, between 23.30 and 0.00 time of July 22, 2002, an Israeli F 16 warplane dropped a one-ton bomb on the Al Daraj neighbourhood in the city of Gaza aimed at destroying the house of the presumed Hamas commander, Sala Shehadeh.
As a result of the attack, 15 people were killed --babies and children, most of them-- and other 150 were injured. Besides, eight houses were entirely destroyed in the area around, nine others were partly damaged and 21 more were affected.
"PROPORTIONATE" OPERATION.
The plaintiff took the case to the Israeli Supreme Court, the verdict of which in January 2006 stated that the operation "was proportionate to the military aim of assassinating Shehadeh" and the ensuing result was not "intentional."
Accordingly, Commander Halutz said later in an interview that his
subordinate could sleep "peacefully" as the carrying out of the operation had been "perfect" and the decision-making process had been "correct, balanced, adequate and cautious."
However, the bombing was disavowed by the international community and the United Kingdom said it was neither legal nor proportionate."
The victims emphasize "the unjustified and disproportionate nature of the military action" and say the court rejected their suit because "the State of Israel is not interested in investigating or prosecuting incidents in which they bear a clear responsibility."