We are writing you regarding the invitation your organization has delivered to Israel so it may become a member state of the OECD
Letter addressed to OECD General Secretary
Author: CSCA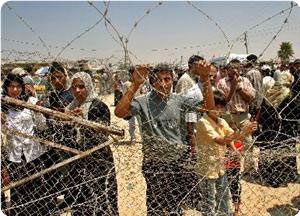 Dear Sir,
We are writing you regarding the invitation your organization has delivered to Israel so it may become a member state of the OECD. Indeed, on December 3, you sent Israel a "road map" for accession and Israel has already been designated to preside -not being a member yet - over important committees like that of citrus fruits markets.
We would like to point out that article 17, in referring to how to become a member of OECD ("a general procedure for future accessions"), and also articles 4 and 5 of the specific "road map" for accession that you sent to the Israeli authorities in Jerusalem (an occupied territory according to international laws and UN resolutions) require "the commitment to pluralist democracy based on the rule of law and the respect of human rights":
"4. The Council reaffirms that OECD Membership is committed to fundamental values, which candidate countries are expected to share. These fundamental values serve as the foundation of the like-mindedness of OECD Members and have been expressed in various OECD Ministerial Communiqués.
Accepting these values, along with the established body of OECD instruments, standards and benchmarks, is a requirement for membership.
5. These fundamental values include a commitment to pluralist democracy based on the rule of law and the respect of human rights, adherence to open and transparent market economy principles and a shared goal of sustainable development. "
As both you and the representatives of the OECD countries no doubt know well, Israel has conquered neighbouring Arab lands, occupies to this day the Palestinian Territories and is (still) building a wall in the occupied West Bank (a verdict by the International Justice Court demands it to be dismantled, to repair the damage caused and asks states to do everything that is needed in order to fulfil this resolution). Israel does not respect so far the Geneva Convention, has changed geographical limits, has build new settlements, demolished housing, spoiled the water, expropriated lands, pulled out trees and destroyed agricultural fields, displacing and expelling people under its control, arresting and incarcerating more than 11.000 people, including minors.
Israel now manufactures and sells abroad what is produced in the Palestinian territories. It subdues the Palestinian economy with checkpoints, asphyxiating it with walls and roads. Israel continues to kill Palestinians and has banned the return of Palestinian refugees. It implements racially biased laws, apartheid-like, discriminating against its Arab minority.
With all this in mind, it is hard to understand which shared common values there might be resulting in the invitation sent to Israel to join OECD.
We ask you to inform other OECD mandataries and reconsider the invitation to join until Israel complies with international law norms. Otherwise, that would be contradictory with the OECD principles and would send Israel the wrong message, encouraging impunity. It would also send a very unfortunate message to the Palestinian community: that countries with strong economies mock the weak and fairness cannot be expected from the developed world.
Yours truly,
Santiago González Vallejo