El número de víctimas palestinas desde el inicio de la incursión del Holocausto del ejército israelí asciende a 116 muertos y 350 heridos
Israel prepares to commit mass extermination in Gaza
Hamas asks international organizations to protect Palestinian civilians
Fuentes médicas palestinas declararon que 116 palestinos fueron asesinados desde el miércoles pasado, entre ellos 39 niños y niñas y han resultado heridas de gravedad otras 350 personas, lo que puede incrementar el número de víctimas de los ataques contra Gaza
CSCA, Palestinian Information Center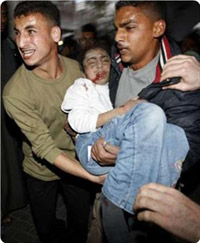 [ 04/03/2008 - 12:21 AM ]
GAZA, (PIC)-- The Israeli occupation government was reportedly mulling the legality of targeting populated areas in Gaza Strip that, if happened, will inflict heavy toll on the Palestinian civilians.
So far, Israel has killed more than 116 Palestinian citizens, at least 39 of them were children and babies, and wounded hundreds others since it started lethal air strikes on the tiny Gaza Strip on Wednesday.
According to the Israeli TV, Israeli war minister Ehud Barak discussed the legality of bombarding densely populated areas in Gaza Strip, alleging that the Palestinian resistance fighters were using those areas as launching pads of their home-made rockets against Israeli settlements adjacent to the Strip. Hamas denied the Israeli allegations.
Israel's own understanding of international law:
Meanwhile, Israeli deputy premier Haim Ramon, who was accused of sexually harassing one of his female subordinates, opined that targeting populated Palestinian areas falls in the framework of Israel's right of "self-defense", which, he claimed, harmonizes with international laws and conventions.
According to Ramon, bombarding populated areas in Gaza Strip would spur the Palestinian people in Gaza to block the Palestinian resistance fighters from using those areas.
For his part, Avi Dichter, the Israeli internal security minister, instigated the Israeli occupation army into committing new wave of massacres against the Palestinian people in Gaza, saying, "Those who protect the rocket launchers are also vandals".
Israel tags Palestinian resistance fighters as "vandals"; yet the term didn't help them as international laws and conventions sanction the right of people under occupation to resist that occupation, which exactly applies to the Palestinian case.
The statements of Hamon and Dichter appeared to sound nice in the ears of former Israeli premier and chairman of the rightist Likud party Binyamin Netanyahu who asserted that his party would support any Israeli military action against Gaza Strip.
Netanyahu even called on the Israeli occupation army to move form the stage of the attrition war to the stage of toppling Hamas in Gaza.
He also said in an interview with the Hebrew radio that he was 100% dehind Israel's decision of targeting populated Palestinian areas in the Strip.
On Saturday, Dichter acknowledged that Israel's main objectives of the Gaza offensive had failed as Palestinian rockets continued falling on Israeli colonies, including Sderot settlement among other Israeli colonies despite the heavy presence of Israeli warplanes and copters in the sky of Gaza.
"Palestinian rockets didn't come to a halt and we didn't achieve the desired deterrent, so, nothing has changed in Gaza", Dichter was quoted as asserting during an Israeli cabinet meeting Sunday.
He even charged that the Palestinian resistance fighters were able to upgrade the distance range of their missiles, thus, widening the circle of Israeli settlers who could be affected by such development.